Benefits of Honey
തേന്‍ വൈറ്റമിനുകളുടെ ഒരു വലിയ കലവറയാണ്. തേനിന്‍റെ അമൂല്യമായ ആരോഗ്യഗുണങ്ങളെ കുറിച്ച്
Benefits of Honey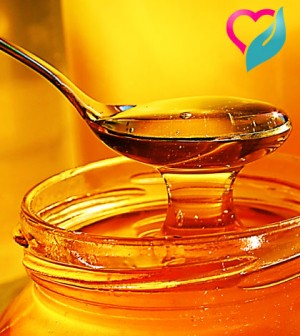 Honey is considered to be one of the greatest gifts that nature has bestowed on man. It is not only healthy when consumed, but also very beneficial to your skin. Its beauty and medicinal benefits have been known to humankind for centuries. There are stories that Cleopatra used to bathe herself in milk and honey and Poppea, the wife of Nero, used honey and milk as a facial lotion. Today, honey is used as an important skincare ingredient by cosmetic companies in order to help with different skin conditions.
Honey is basically nectar obtained from the flowers. It is 80 percent sugar; the rest is minerals and trace elements such as iron, calcium, phosphorus, magnesium and amino acids. It also contains vitamins C, B and water. Bees have inhabited our planet for around 150 million years making honey for us. As a result the Greeks, Persians, Egyptians and even the Romans knew about the skincare benefits of honey. Here are a few to get you started
An effective moisturizer
Honey has humectant qualities; as a result, it can be used as a moisturizer in many cosmetic preparations. It not only attracts water but also retains it in the skin, so the skin remains supple and elastic. It also protects against wrinkles and dryness.
Antiseptic properties
Honey has antibacterial and antimicrobial properties which give it healing power. These properties help prevent the growth of certain bacteria by producing an enzyme — hydrogen peroxide. Thus, honey can be utilized as a natural treatment for wounds, cuts and abrasions to promote healing.
A cure for eczema
The most important benefit of a special type of honey, called manuka honey, is that it can cure eczema. It can treat damaged skin and regenerate new skin cells and hence it is a vital ingredient in almost all products that are manufactured to cure eczema and other forms of dermatitis.
Treatment of infection
A common skin infection — ringworm — can also be treated using manuka honey. It possesses anti-fungal properties that can cure the infection. Other fungal infections like athlete's foot and jock itch can be healed by applying manuka honey too.
Anti-aging properties
Honey has always been famous for its natural antioxidant properties, which play an important role in protecting the skin from ultraviolet damage. Overexposure to the sun causes skin damage, premature aging and even skin cancer. Honey can be used as a sunscreen to protect the skin from the sun.
Anti-acne properties
As honey can fight infections below the skin's top layer by unclogging pores and drawing out impurities, it can help you deal with acne problems. The active properties of honey penetrate the blocked follicle, killing the bacteria which cause acne and any infection.
Skin conditioning properties
Mix one teaspoon of honey with one teaspoon vegetable oil and one-fourth teaspoon lemon juice. This mixture is a very natural conditioner, to be rubbed onto every part of your body which is suffering from dry skin. Leave it on for 10 minutes and then rinse off.
Skin toning properties
Make a concoction of one tablespoon honey and a peeled, de-seeded apple. Apply this paste onto your face for 15 minutes. Rinse with cool water. This tones the skin, keeping it firm.
Lip protection
The application of honey on chapped and wrinkled lips will make them wonderfully smoother and softer.
Exfoliation
Honey can be used to make a gentle exfoliator. Mix one tablespoon each of finely grounded almonds and honey, two tablespoon of dry oatmeal and one teaspoon of lemon juice. Massage this mixture gently onto your face for five minutes and then rinse off with water.
Honey in its purest form is suitable for all skin types, even sensitive skin. It is truly the perfect ingredient for skincare, to help you to nurture, cleanse and protect your skin.
Honey is a great natural source of carbohydrates which provide strength and energy to our bodies. If you are suffering from fatigue, then honey can help you a lot. Honey is known for its effectiveness in instantly boosting the performance, endurance and reduce muscle fatigue of athletes. The glucose in honey is absorbed by the body quickly and gives an immediate energy boost. It is known that honey has also been found to keep levels of blood sugar fairly constant compared to other types of sugar.
If you are feeling low and lethargic in the morning, don't try those energy drinks. Instead have a toast with honey or add honey to your corn flakes. It will be refreshing for you.
One of the better known health benefits of honey is that it is able to help treat sore throats honey not only soothes throats but can also kill certain bacteria that causes the infection.
Next time before you go for a workout, take a spoon of honey to enable you to go for the extra mile.
Its antiseptic properties inhibits the growth of certain bacteria and helps keep external wounds clean and free from infection. Honey has been used as a natural cure in first aid treatment for wounds, burns and cuts. Its antibacterial properties prevent infection and functions as an anti-inflammatory agent.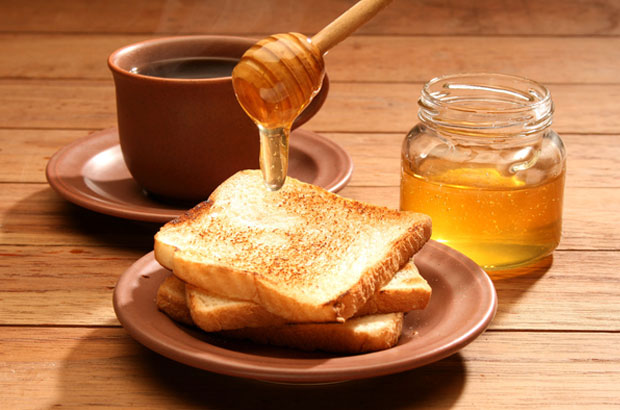 Nutritional Benefits
According to a Swiss study that discussed the nutritional value of honey, honey is rich in carbohydrates but has a low glycemic index (GI). Its GI varies within a range of 32 to 86 depending on the botanical source. Fructose rich honey, such as acacia honey, has a low GI; lower in fact than sucrose which is pegged at 60 to 110. Foods with low GI release glucose into the blood slowly and steadily; high GI foods cause blood sugar to spike. High GI foods are not suitable for diabetics; but those after a workout or are experiencing hypoglycemia will benefit from its ability to give immediate energy.
Honey contains the following trace minerals: potassium, magnesium, calcium, sodium, chloride, sulfur, iron, copper, iodine and zinc which although marginal, may contribute to the recommended daily intake requirements. It contains choline, a B-vitamin essential for brain and cardiovascular functions, cellular membrane composition and repair; and a neurotransmitter called acetylcholine.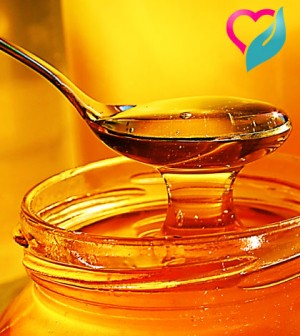 Medical Benefits
Honey has anti-viral, anti-microbial and anti-parasitic effects. Its capacity to inhibit the growth of micro-organisms and fungi is well documented. The low water activity of honey inhibits bacterial growth and honey glucose oxidase produces the anti-bacterial agent hydrogen peroxide.
Depending on its botanical source, honey gives significant anti-oxidant activity protecting against oxidation responsible for chronic diseases. It also has anti-mutagenic, anti-tumor as well as anti-inflammatory qualities that stimulate anti-body production.
Honey is effective in dressing wounds. It has recently been used in clinical settings for treating fist sized ulcers extending to the bone as well as in the treatment of first, second and third degree burns. Complete recovery has been reported with no infections, muscle loss or any need of skin grafts. When the wounds are clean, honey acts as a healer. Garlic honey, which is just a mixture of honey and garlic, can be applied directly to infected wounds to clean the area. Dr. Peter Molan ofWaikato University in New Zealand observed that honey was more effective in managing infections on burn wounds than anti-bacterial ointments used in hospitals.
Moreover, in a study conducted by Penn State University, honey was discovered to be better at alleviating cough than over the counter drugs. The study led by Dr. Ian Paul found that a small amount of buckwheat honey, given before bedtime, provided better relief for kids from night time cough and sleep difficulty than the use of dextromethorphan (DM). DM is an over the counter cold medication. This finding is significant in light of a recent Food and Drug Administration advisory that cautioned against giving cough and cold medicine to children below six years old due to its potential side effects ineffectiveness. Incidentally, consumers spend billion of dollars each year for medication not proven to give significant relief.
Honey Reduces Heart Disease Risk
Eating honey can lower the risk of heart disease, according to a preliminary study published in the Journal of Medicinal Food (2004;1:100–7). The beneficial effect of honey occurred despite the fact that two of its constituents (sucrose and fructose) are known to have a negative effect on heart disease risk factors.
Made by honeybees, honey's sweet taste comes from the three sugars that are its primary constituents: sucrose, glucose, and fructose. A diet high in table sugar (sucrose) is known to increase the risk of obesity, insulin resistance, and high blood pressure. Sucrose also reduces the levels of beneficial HDL cholesterol and increases triglyceride levels. Fructose has similar effects to those of sucrose. Honey is a complex food; aside from sugars, it contains a number of potentially beneficial enzymes, amino acids, pigments, pollen, wax, and traces of nutrients from both bees and plants. It is known to have wound-healing and antibacterial properties, and some studies have suggested that eating honey can reduce blood levels of some markers that are linked to an increased risk of heart disease.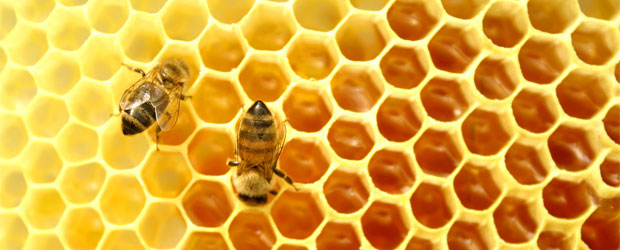 Negatives of Eating Too Much Honey
Sugars and Weight Gain
Honey contains the same caloric ratio as table sugar and high fructose corn syrup, four per gram. Like these other sugar sources, eating excessive amounts of honey without increasing exercise will result in weight gain. Weight gain happens when caloric intake exceeds calories burned. Honey averages 64 calories per tablespoon and eating it in excess, like any other calorie source, will add pounds.
Diabetes, Heart Disease and Cancer
Excessive use of honey on foods or eaten alone can increase the risks of developing a chronic illness like heart disease. Pancreatic cancer is increased by 70 percent by a high sugar intake diet. Honey affects the insulin production in the body in much the same way as table sugar and constant stimulation of insulin production by overeating honey can lead to the disorder diabetes.
Allergies
On occasion honey has been known to cause allergic reactions in humans. The cause is honey that has been contaminated with specific types of pollen or has been created with the nectar of specific plants. Depending on the severity of the allergy to the plant species, consuming a little or a lot of a certain variety of honey could result in diarrhea, itchy mucosa, abdominal pain, vomiting and more severe reactions like anaphylaxis and angioedema.
Acne
Eating foods that are higher in the Glycemic Index cause increases in the presence of acne on the skin. Honey ranges on the glycemic index from low to high depending upon the type of honey. Eating excessive amounts of honey will increase the glycemic intake regardless of the type of honey consumed and could cause acne to surface or worsen.
It is not recommended for infants under one year of age. Honey may contain C. botulinum spores, which can make infants very ill.